By Gregory Thomas
On Tuesday, March 4th, GreenHomeNYC's Green Careers group held its third meeting of the year. This time in Boston, Massachusetts during the BuildingEnergy 2014 (BE14) conference.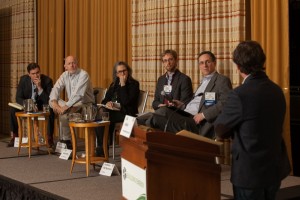 BuildingEnergy, run by the Northeast Sustainable Energy Association (or NESEA, an affiliate of GreenHomeNYC), is a conference and trade show where professionals across the renewable energy and building performance industries gather to build, shape, and share their visions of a sustainable built environment. Attended by educators, emerging professionals, building owners and industry leaders, amongst others, it is an event where people have the opportunity to network, learn about cutting-edge technologies and methodologies, gain continuing education credits, and even grill high-caliber startups on what makes their product better than the competition, as happened at the Opening Forum of this year's conference. As a relative newcomer to GreenHomeNYC, NESEA, and the building performance industry in general, I was excited to experience every aspect of this conference over the three days it took place, from March 4th through March 6th. Let me highlight just a few of my favorite experiences of the conference.
The first day of BE14 focused on workshops, where industry experts held classes on topics ranging from multifamily auditing and retrofitting to Passive House building strategies to solar system design and more. In the morning, I attended a fast-paced workshop on heat load and energy calculations taught by Peter Temple of Keene State University. This course got down to some of the basic concepts that building energy professionals regularly contend with (R-values, U-factors, seasonal and design heat loads, etc.). Though the math was relatively simple (at least for a room full of engineers), it provided participants with many opportunities to practice crunching the numbers while working in small groups. A very worthwhile experience that had me revved up to learn more about the scientific concepts at the foundation of the building performance industry.
The second and third days of BE14 focused on the Trade Show and speaker sessions. I volunteered to help run a couple of speaker sessions during the conference. My favorite of these being one on multifamily building ventilation, which I ran along with GreenHomeNYC's Green Career meetup coordinator, Katie Schwamb. At this session, Sean Maxwell of Steven Winter Associates shared detailed data from his research into air makeup mechanisms for a particular multifamily building. His presentation made for a solid lesson on the science behind airflow in buildings and how we can better control it.
My overall favorite session was one I attended on the final day of the conference. It was on ideas about the future of cities, done in the Pecha Kucha style, where each speaker had 20 slides to present, each for 20 seconds. Among the speakers was GreenHomeNYC board member F. L. Andrew Padian. We heard about outside of the box ideas for reusing buildings (think World War II-era ruins being turned into a renewable energy plant), rehabilitating dilapidated houses, funding for Super-storm Sandy rebuilding efforts (or lack thereof in NYC), issues with combined sewage overflows, and a call to action through a powerfully presented spoken word piece by Declan Keefe of Placetailor. At the instruction of track co-chair Robert Leaver of New Commons, the attendees also broke out into groups based on interests in the various subject areas that were brought up by the speakers. I joined a group that focused on the subject of water, including its use, collection, purification, conservation efforts, and recycling. We threw around ideas on the issues we were facing in regards to potable water, and how we could ensure that there will be enough of it for all of us in the future. Each group then presented 5 main ideas from their subject area to the wider group of session attendees. This activity was unexpected but not unwelcome, and gave attendees an opportunity to connect with one another and share ideas in a more structured setting.
Beyond the formal structure of the conference, there were several incredible networking opportunities. On Tuesday evening, the workshops of the day were followed by conversation, food, and drinks at a nearby establishment, Lucky's Lounge, where the official GreenHomeNYC Green Career meetup took place. Attended by a mix of GreenHomeNYC coordinators and volunteers, NESEA board members and executives, BE14 planning committee members, and various other conference attendees and professionals, it was a productive gathering for connection, merriment and reflection on the experiences of the day. On Wednesday evening, after the sessions of the day wrapped up, many attendees boarded the Spirit of Boston to attend the NESEA Night dinner cruise. This was a unique opportunity to connect with friends both old and new, finally catch that one person who you could never find at the conference and otherwise network in a comfortable, high energy setting. I made a few new professional contacts myself that evening, ones that I hope will lead to great partnerships in the future.
All in all, the BuildingEnergy 2014 conference was an informative, enlightening, fun, and highly productive experience. As far as I am concerned, the conference itself was the true Green Career meetup for March 2014, and I would wager that it is the best meetup of the year. Still, there is always more to learn and more to do, so it has me looking forward to the next Green Career meetup in NYC and fired up to push even harder to break into the sustainable energy industry.
Article by Gregory Thomas.
Photographs by Matthew Cavanaugh.
Want to attend the next Green Careers meeting? Join us on April 8th for our "Sustainable Career Tracks: NYC ACRE Edition" meeting. RSVP HERE!
——————————————————————————————————————————
The GHNYC Green Careers group provides informational resources and networking opportunities for individuals looking to break into the sustainability and energy-efficiency field. Our meetings occur on the first Tuesday of each month. Visit www.greenhomenyc.org for updates and email [email protected] with questions.