by Jennifer Lauren
Sixteen year old student Jamie Margolin had always been interested in creative action against climate change. Just last year, she developed a multidimensional, youth-fueled response to climate change aptly entitled Zero Hour. Today, Zero Hour is a full scale, national movement that is also gaining traction abroad.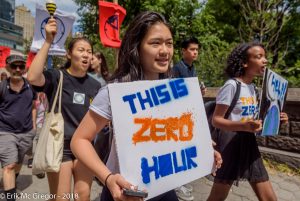 Inspired by Margolin's activism, then-high school students Ilana Cohen and her friend Amy Torres established Zero Hour NYC. Core to the organization's mission is inclusivity and interconnectivity: its mission underlines that not only youth, but also those "of the Global South, People Of Color, Indigenous Peoples, People with Disabilities, Poor People, Women, Queer and Trans People, and People belonging to marginalized faiths" are all those who are on the frontlines of climate change and are therefore uniquely poised to co-lead positive social change for both planet and people.
Zero Hour NYC is well positioned to demonstrate Margolin's vision of inclusivity. Amy Torres and Ilana Cohen, along with a robust and diverse team, oversee New York City's own coalition of local city students who are working collaboratively to ensure a more sustainable future for all.
On July 21st, Zero Hour NYC hosted its first Youth Climate Change March. Hundreds of co-organizers, activists, peers, adult allies, and organizational partners marched from Columbus Circle to Dag Hammarskjold Plaza by UN Headquarters, where they held a historic rally.  The march this weekend was distinctly multi-generational, multi-ethnic and cut across economic lines.
Speaking to Amy Torres about the preparations for the Youth Climate Change March and Zero Hour NYC 's ongoing work, she made clear that the time is now for taking a stand against the alarming impact of climate change. At the same time, her positive attitude and focus on the collaboration was striking.  "Every day I've worked on this march, I have been met with eager volunteers and encouraging support that reveals just how dedicated and passionate youth are towards fighting against climate change," Torres said. "Not only is it an issue we will inevitably feel the brunt of, if we continue to do nothing, but it's one that is connected to countless social issues."
She went on to add, "This intersectionality of climate change is its saving grace, and why I think it poses so much positive change, not just in NYC but around the world. Rather than pitting issues against each other and calling climate change the only issue, it should instead be seen as the all-encompassing issue. That's why my fellow organizers come from many gateways: participatory budgeting, voter registration, community environmental projects, etc. This positive change is ultimately leading us not only towards a safer, more habitable world, but a more just world as well, and is why we must act now!"
Rowana Miller of Zero Hour NYC amplifies Margolin's long-term vision, underlining that the march is a beginning not an end. "In the coming months, our current Junior Coordinator, Rachel Lee, will become the head of our organization and grow the NYC chapter's student involvement. We're partnering with People's Climate Movement and will be bringing youth voices to their highly-anticipated September 8th global day of climate action," Miller said.  "We will also continue to lobby for the passage of the Climate and Community Protection Act, a piece of state legislation that lays out a path for New York to become 100% renewable by 2050, and support progressive youth groups such as YPPG (https://yppg.org) and YVote in their efforts to register all New York youth to vote."