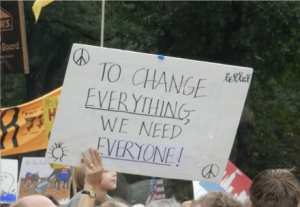 It's been a challenging year marked by extreme weather events, with hurricanes, fires, droughts, and floods all across the globe. In the United States we saw Houston drown and California burn just a few months after Trump's pullout from the Paris agreement.
We are grateful to our many hard-working volunteers, knowledgeable pro bono speakers, generous organizations that donate their space – and to donors like you – all of whom have made it possible for GreenHomeNYC to step up our efforts in these pressing times:
Our speakers and our blog writers shared critical news about local policy, business actions, and academic initiatives.
Record numbers of attendees turned out for our Monthly Forums events to hear from innovators in energy, food waste, recycling, and sustainable building.
Student and professionals alike filled our New York City Green Career sessions, and our first-ever Green Careers webinars attracted participants from as far away as São Paulo, Brazil, as they all came to learn where to point their compasses in the new paradigm.
Our Green Building Tours program hosted sold-out tours of the Sims Municipal Recycling Plant, the Newtown Creek Wastewater Treatment Plant and other sustainable buildings and sites throughout New York City.
Please help us keep up the momentum through our education, outreach, and green career programming by making your tax deductible contribution today.
GreenHomeNYC has no paid staff – all your contributions go toward basic operations. We depend on your generous support to continue the hard work of building a resilient and sustainable New York, promoting an energy efficient and sustainable built environment, and advancing green professional development in our own city and beyond.
As GreenHomeNYC enters our 15th year in operation, we are facing another year that promises to present new challenges in the fight against climate change. Thank you for helping us continue to be an important part of the solution.
GreenHomeNYC is a 501(c)3 organization, all donations are tax-deductible to the full extent of the law.