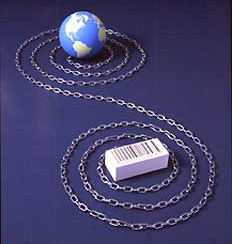 How much do you really know about what went into making the items in your wardrobe or the building materials that were used to construct your home/apartment?
This September, come out for a discussion on how your consumer products make it from being their component parts, to an assembled unit, to a product that you own and use daily. Industry experts from the fashion and real estate worlds will shed light on how supply chain processes can be made more efficient and transparent. We'll also touch upon making supply chains more resilient as climate change factors come into effect.
This is sure to be an eye-opening forum!
Date: Wednesday, September 17, 2014
Time: 6:00-8:00pm
Place: Skanska (at the Empire State Building), 350 Fifth Ave, 32nd Floor, New York, NY
Our speakers will include:
Swati Argade is the founder and creative director of Bhoomki, a women's apparel boutique in Park Slope, Brooklyn, that features brands who source organic, recycled and/or artisan fabrics. Her in-house line is cut and sewn in child-free factories where workers receive a living wage under humane working conditions. Whenever possible, her line is manufactured in NYC, uses low-impact dyes and offsets shipping costs with carbon credits toward renewable energy initiatives.
Stuart Brodsky is the Director of the Center for the Sustainable Built Environment and an Assistant Professor at New York University's Schack Institute of Real Estate. Previously, he held positions at GE Capital Real Estate and the US Environmental Protection Agency.
At the Schack Institute, Professor Brodsky leads the development of curriculum and teaching green building, sustainability, and resilience for the graduate program in real estate development. As director of the Center for the Sustainable Built Environment, Brodsky directs strategic planning, research, conference development, and mainstreaming of sustainability into Schack's allied graduate programs in real estate, finance, and construction management.
Brodsky holds a Master of Environmental Design from Yale School of Architecture and a Bachelor of Arts in English from Hobart College.
Shruthi Rao is the co-founder and CEO of Adapt Ready, a software platform that enables organizations to understand, respond, and adapt to extreme weather and climate events.
Previously, Shruthi worked as a sustainability strategist, management consultant and mentor to Cleantech startups, and has worked with clients in information technology, publishing, apparel, breweries and tourism. Before entering into the world of sustainability, she worked for over seven years in technology.
Shruthi has an MBA and a B.E. in electrical engineering. In her spare time, she enjoys traveling and extreme sports.