As cleanup efforts continue, fast-growing BuildingEnergy NYC is all about resilience
By F. L. Andrew Padian
Six months before Hurricane Sandy, whose storm surge hit New York City on October 29, 2012, the decision was made to center NESEA's 2012 BuildingEnergy conference on resilience. As BE approached, we all became more and more impressed with the smattering of resilience sessions and how they made the conference much more timely.
Sandy had really hit a lot of New York City hard, taking out entire neighborhoods, like Breezy Point, where fires spread from house to house even as water surged around their foundations. In Manhattan, which wasn't hit nearly as hard as the outer boroughs, surge waters washed cars down the street at Peter Cooper Village, and water climbed onto the West Side highway, filling basements and in some places rising to more than three feet deep on the first floor. A major tunnel between Manhattan and Brooklyn, the Brooklyn Battery, filled with water. Live news reports said the water flowing into the tunnel smelled like oil. Of course it did: many of our buildings heat with oil, some of them with residual no. 6 oil, and the tanks are in the basements. My own home in Hell's Kitchen was not affected, but my office was closed for a week.
Some numbers from the mayor's office: 43 deaths, 6,500 patients evacuated from hospitals and nursing homes, nearly 90,000 buildings in the inundation zone, 1.1 million city children unable to attend school for a week, close to 2 million people without power, 11 million travelers affected daily, and $19 billion in damage. Concerning damages, when a building is vacant for three months for repairs, cash flow stops, and complementary insurance policies typically don't pay for everything. We never thought that the ocean, the Hudson or the East Rivers, or any other adjoining body of water would rise to the levels that Sandy brought.
This was a storm surge, a disruption of major services, an economic disaster, and an environmental disaster all in one.
BE NYC 2012: a timely first
The Friday before Sandy hit, 30 of us met at my office to plan a one-day BENYC Multifamily Conference to address what building owners and operators needto know about technology, training, and financing to make their buildings safe, durable, affordable, comfortable, sustainable, energy efficient, and even resilient. On Saturday, December 1, just 35 days later, a committee from the multifamily sector in NYC, about 25 GreenHomeNYC volunteers, and the NESEA staff brought 170 people to that conference. Building owners came to hear what other building owners were doing, rave reviews ensued, and we had a new moniker for NESEA and BE: BENYC, or "be nice."
Today, my company, the Community Preservation Corporation, is working with the New York City Department of Housing Preservation and Development and other city, state, and federal agencies to bring much-needed monies to apartment buildings affected by Sandy. I've seen basements completely submerged—mechanicals, collectibles, and everything else, gone. In buildings built on slab or with full basements, the city's Rapid Repair Unit has replaced boilers that were covered with water—with the same low-efficiency units, in the same place theywere before (yes, I need some more things to complain about). Accommodations for the next storm or power outage or whatever, including locating mechanicals on upper floors, are now becoming ingrained in our work.In June of this year, the city released a 455-page report on the impact and reaction to Sandy that recommends a long-term investment of 19.5 billion to protect the city in the future.
For 2013, a bigger, more diverse conference
Buoyed by the success of BENYC, and having a bit of NYC moxie, we immediately went out to double the size of the conference. With a local committee of professionals who own, manage, build, retrofit, and rehab commercial, institutional, multifamily, and even small buildings throughout the NYC metropolitan area, our goal was to reach out to more building types and expand the typical NESEA audience to include the most important practitioners: building owners and managers.We discussed having a track specifically on resilience, but it lost out to tracks about buildings—because each of sixplanned tracks fully addressed resilience, and case studies abounded.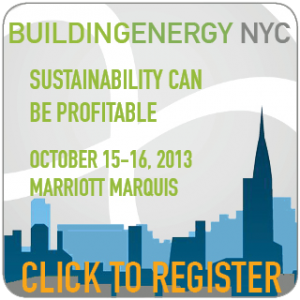 In the NESEA community, we're constantly honing our skills.Decades ago, when people suggested that we consider health and safety in our analysis (we were tightening buildings), many of us guffawed and confidently claimed to be fully prepared. We weren't.Now, the ones who trained us in health and safety then are among the leading experts in resilience—because it's about staying alive in our buildings. Resilience, this new tool in our sustainability toolbox, requires us, again, to learn a whole slew of new things and to look at buildings in another and more detailed "whole building" format.
Let's hope the lesson of Sandy is learned and remembered. The power failure that gripped much of the Northeast 10 years ago, causing cooling losses and total mass transportation failure for a few days in some regions, has been forgotten by many. Sandy's relief and repair effort, like Katrina's, will take years, and preparations for the next event may take longer. It appears, however, that we have begun.
New York City resident F. L. Andrew Padian is vice president for energy initiatives for the Community Preservation Corporation (CPC), a not-for-profit affordable-housing mortgage lender. There, he is working to implement the Green Financing Initiative (GFI), working with CPC staff and building owners across New York State. He is also, among other things, board president of GreenHomeNYC, and vice chair of the NESEA board. He has 30 years of experience in the unique building science of multifamilies and has performed detailed energy analysis on hundreds of buildings nationwide. He created the first national model for training and certification of building managers and maintenance staff of multifamily buildings for energy efficiency; over 2,000 participants have taken the extensive one- to five-day training.
This story was originally published in the Fall 2013 edition of BuildingEnergy Magazine