By Melanie Mason
In partnership with the NYC Fair Trade Coalition, GreenHomeNYC curated a multifaceted panel discussion on the challenges and progress in sustainable fashion, one of the most polluting industries in the world.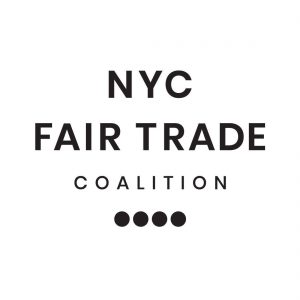 On Wednesday November 20th, our panelists discussed innovations that ranged from design to chemistry, from up-cycling to inclusivity. They shared several perspectives on what the future of the industry holds, and importantly, what citizens can do today to affect that future. The media increasingly reports on the fashion industry's impact on humans and the environment, and at the same time, consumers increasingly purchase eco-conscious brands. The large turnout for this panel indicated how important this issue is to the local community.
Moderated by Nataliya Makulova, founder of Balanced Fashion, we heard from Deanna Ansara, Owner and Designer of Vincetta, Andrea Reyes, Chair of the NYC Fair Trade Coalition and Founder of A.Bernadette, Daniela Blanco, PhD candidate at New York University and co-founder of Sunthetics, and Ozgem Ornektekin, Founder of Ko2 Consulting and Petit Pas.
Deanna Ansara, Owner and Designer of Vincetta, expressed a deep passion for using her designs to create a new conversation in fashion. To lessen the environmental impact of her garments, she finds unused fabrics (some from the 1970's!) and recycles her material scraps. She has created her brand to be human, inclusive and honest, which is a stark contrast from much of the fashion industry. Her items are sold at a higher price point, which she says encourages more conscious consumerism. The strategy gets consumers to think of the longer term value before buying and to cherish the item for a very long time. She urged the audience to use their dollars to vote and buy from brands doing good.
Andrea Reyes, Chair of the NYC Fair Trade Coalition and Founder of A.Bernadette, started her own fair trade fashion brand after living in Uganda for several years. She is passionate about education, and her fashion brand morphed into teaching classes including, "Start your Own Fair Trade Fashion Business." Her dream is to find a space that can be used by sustainable fashion brands to sell their products here in NYC. Andrea emphasized the importance of meeting people where they are in their sustainability journeys, because everyone is at a different place.
Daniela Blanco, PhD candidate at the New York University Tandon School of Engineering and Co-Founder of Sunthetics, is working to develop a sustainable process for making Nylon. Nylon, which is used in textiles, engineering plastics and automobile parts, has been processed chemically for the past 50 years. It requires four chemical transformations that emit carbon dioxide and nitrous oxide. People rarely talk about what it actually takes to turn a raw material into a textile, but it's an important aspect of the fashion industry. "The chemical process is really important, and we need to be transparent about it," Daniela emphasized.
Ozgem Ornektekin, Founder of Ko2 Consulting and Petit Pas, is a chemical engineer turned up-cycling advocate. She has a strong background in sustainability and when she saw how many pointe shoes are thrown out from the NYC ballet, she looked more closely. Ozgem pulled apart a pointe shoe to find satin leather that she could use to make leather bracelets. Petit Pas is able to standardize production because pointe shoes from the NYC ballet are all the same satin leather. The company not only up-cycles pointe shoes, they donate money to assist ballet students with the high cost of pointe shoes (ballet students go through 3-4 pairs of pointe shoes in just one week).It was inspiring to hear from so many people doing great things in the fashion industry. Producers do not always think about what happens to their products at the end of the life cycle. But with up-cycling, recycling, new technology, and pressure from consumers, this can certainly change in the future.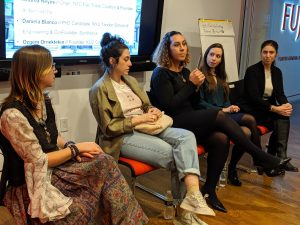 Thank you to Fujitsu Airstage for hosting us and doing your part to create a better future. Fujitsu Airstage is a learning center that displays the latest energy-efficient heating and cooling systems.