by Claire Brown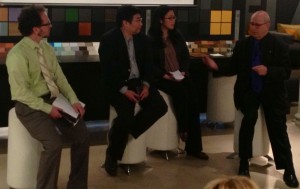 On February 20th, GreenHomeNYC held its Green Building Monthly forum on "Building in Flood Zones" at The Trespa Design Center.  Presentations were given by: Albert Wei of Kohn Pedersen Fox Associates, Professor Lance Jay Brown, and Julia Ragragio Ruiz of Columbia University's Sustainability Management Program.
.
 Mr. Wei's presentation, "Design for Coastal Resistance: What is urban resilient design?" discussed master plans for improving flood defenses for Asbury Park, NJ.  Mr. Wei emphasized the importance of strategies for disaster and flood resilience, such as restoring the functionality of flood control estuaries.  Other solutions he described were utility vaults and flood barriers.  He also presented a building design checklist for sustaining Category 3 storms (111-130 mph winds).
 .
Mr. Wei commented on the approach of lifting buildings above the storm flood level, noting,  "it's not always practical to raise everything up off the ground plane and the amount of protection provided is questionable."  Elevation can also interfere with the aesthetic vision for an area.  "In New York City we want to preserve the lovely modernism of downtown buildings, or in the case of Asbury Park, we want buildings to align with the boardwalk."  In terms of urban design and architecture we get into the territory of which features are practical for certain environments. "Can you have a row of shops or a glass facade by a waterfront zone?"  In considering the types of urban spaces for New York City, Wei suggests engineering that considers a broad landscape of strategies for more resilient urbanism while protecting the way of designing and building a city.
.
 Professor Lance Jay Brown of Lance Jay Brown Architecture + Urban Design, and the City College of New York presented "Recovery from Sandy."  "Exercises of New York City's disaster housing plan bring together hundreds to examine how to provide safe housing for those living in flood zones.  After seeing the effects of Sandy they were frustrated that they didn't start two years earlier."  But Mr. Brown reminds us that we are just learning what it means to be confronted with a storm like Sandy.  It is said that Sandy caused the most damage to a global city since World War II.  "We have to stay ahead of the game and develop our plans now.  Innovative solutions will pose legal issues but we can't wait for the legislation."
.
 Mr. Brown commends The NYC Office of Emergency Management's (OEM) "What if New York City…Design Competition for Post-Disaster Provisional Housing", for inspiring the kind of thinking we need to get the ball rolling.  In 2008 OEM along with the NYC Department of Design and Construction, The Rockefeller Foundation, and Architecture for Humanity, challenged participants to propose innovative designs for temporary urban housing for use after a disaster. 
 .
Julia Ragragio Ruiz of Columbia University concluded with "Insurance, Climate Change and Flood Resilience in NYC."  Ms. Ruiz shared the findings of her team's capstone project about incorporating disaster insurance into a regional disaster management program.  The Mayor's office decided to use Ms. Ruiz and her team as a resource in pursuing policies of resilience that engage with insurance companies.  Ms. Ruiz and her team determined that over 26,000 properties in New York City are potentially at risk of loss during a flood disaster, and that the majority are uninsured or underinsured.  In the residential market, about 60% of properties are uninsured despite the National Flood Insurance Program's requirement that property owners within flood zones purchase flood insurance.  She also asserted that the lack of communication during and after disasters has resulted in insurance companies not paying claims quickly enough to insured property owners.
.
 Ms. Ruiz proposed three ways to develop resilience in NYC: improve public education about flood risk, improve communication among the relevant New York City agencies, and conduct a more comprehensive insurance market analysis.  FEMA extends aid to all who were affected by Sandy to rebuild homes as they were, but not better, leaving a gap in funding to influence disaster sustainability. 
.
 As we continue to "move equipment up from the basement" and recover from Sandy damage, we should go beyond a return to normalcy.  As well as lifting the buildings themselves, let's elevate our concern and cut ribbons for a modern, resilient New York City.  Thank you to Albert Wei, Lance Jay Brown, and Julia Ragragio Ruiz!