by Megan Nordgrén
It no longer seems strange to hear that children in New York City public schools are growing their own food; in fact, it has almost become the new norm. Of the 1800 public schools in the city, nearly one-third now have school gardens registered with GrowNYC, and this number has been growing by 75-100 gardens every year since the registry was begun in 2011. This agricultural trend has found broad support from many organizations and foundations providing resources and funding, as well as from public officials. One outspoken proponent of school gardens, Manhattan Borough President Gale Brewer, announced that she would dedicate up to $1 million in capital funding for "innovative school gardening projects" during this fiscal year.
The gardens are as varied as the city neighborhoods, ranging from small containers, to indoor hydroponic systems to high-tech rooftop greenhouses. A new trend is indoor aeroponic gardening, where many plants can grow in a vertical tower. Small indoor systems such as these have several critical benefits: they allow schools to "start small" and test out a new gardening program; they allow for year-ground growing with grow lights; and they give schools with no viable outdoor space an opportunity to participate in growing their own food.
Gardens can be found in schools throughout the city, with the most located in Brooklyn, followed by the Bronx, Manhattan, Queens and then Staten Island. Approximately 50% of registered gardens are in elementary schools, but high schools and middle schools are also adding gardens at a rapid rate. Increasingly, pre-Kindergarten programs are recognizing the benefits of starting gardens at an early age.
Growing Benefits
Through a Garden to Café program, many school gardens provide vegetables that are fed to students in their own school cafeteria. Not only does this add fresh food to their meal,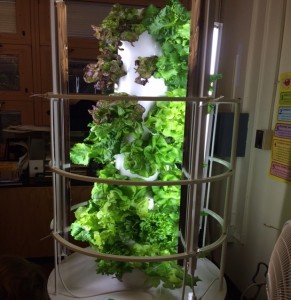 it also encourages overall healthy eating – often to children who eat up to three meals a day in the cafeteria and may not have access to nutritious food in their homes. When children GROW things, they are more likely to EAT and LIKE them. This is precisely why organizations that seek to improve children's nutrition and fitness, such as Wellness in the Schools (WITS), help to provide tastings for students in the cafeteria, using the 'fruits' of the children's garden labor.
The benefits of school gardens go far beyond the fresh food that is produced, however. Gardens are a well-documented STEM teaching tool and introduce students to critical environmental science concepts. Teachers also indicate that the gardens help students with a wide variety of subjects such as social studies, math and literacy. Finally, they provide much-needed green spaces for urban children and an opportunity to put their hands in the dirt while developing a true connection with their food.
Gardens Grow
According to Jessie Kerr-Vanderslice, Grow to Learn Director for GrowNYC, once a school starts a small garden project, they tend to naturally grow into bigger programs to incorporate other aspects, such as rainwater harvesting, composting, pollinator habitats and native plant areas.
This tendency towards garden expansion was evident at one Upper West Side elementary school, P.S. 84, where parents and school staff worked together to build gardens – and community – at a previously underserved school. They began in 2009 by creating a beautiful learning garden on the ground floor that could be enjoyed by the entire neighborhood. They then took over an unused interior 2nd floor courtyard and, using a few donated planters, began growing vegetables and herbs. Through small grants and many volunteer hours, the roof garden continued to expand into a program eventually used by every student in the school. The Parent Teacher Association raised funds to hire a part-time Garden Educator to work with the students and classroom teachers, as well as to maintain the garden and develop curriculum. The garden program now includes components such as composting, a native plant area, and was designated a Monarch Waystation. The garden is used in a variety of subjects, including learning about Native American traditions in agriculture. Another addition is a "Root Camp" for 5th graders to learn basic cooking skills and take a more in-depth look at nutrition as they prepare to move on to middle school and greater independence. The garden now is one of the most important school programs at P.S. 84.
Growing Challenges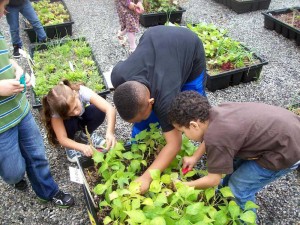 School gardens do face challenges, however, perhaps the most significant being personnel willing and able to initiate or keep up the garden program. If there is no one experienced in gardening, there can be a perceived high barrier of entry – although there are now many organizations such as NY Sunworks that can assist with the development and maintenance. Gardens are typically begun by a motivated teacher or parent, but once that person leaves a school, it can be difficult to find a "champion" to keep the program running.
With the heavy demands put on classroom teachers, another challenge is the difficulty in incorporating gardens into their classroom teaching – especially when they do not have any prior gardening experience. Many teachers have indicated that they are nervous to try gardening because they believe they have a "brown thumb."
A report from Manhattan Borough President Gale Brewer's office identified several other important challenges: funding, summer maintenance, time and space. There are a number of small grants available for creating gardens, but fewer that cover routine maintenance. The report states that almost half of school gardens do receive funding from private grants and over 30% receive funding from Parent Teacher Associations or school budgets. Some schools have found creative ways to fund the programs through selling some of their harvest to parents, or hosting plant sales.
Growth Continues
Despite the challenges, gardens continue to expand throughout New York City schools at a rapid rate. As a result, many urban students are now able to answer the question, "where does food come from?" with a better response than "the grocery store."